Managing ETM Dashboard users
Overview
ETM Dashboard enables you to invite users to your account to manage your appliances and subscriptions.
For example, you can add a technician to your account to help you remotely administer one or more of your appliances, or you can add a billing specialist to help manage subscriptions.
Adding users to your account
A user is successfully added to your account after they receive and accept your invitation. To invite one or more users to your account:
Click My Organization from the menu at the left-hand side of the page.
Select Users.

Click Add Users.


In the Users field, enter the email address for each user(s) you want to invite to your account. Separate each email address with a comma (,).
In the Account Management selector, choose the type of access to assign to the user(s).

Disabled allows the invited account to access appliances only. It cannot access any configuration about the master account, including subscriptions. This is a good choice for a technician-only level of access.
Read-only allows the invited account to view some account details, but not make any changes. This can be useful for allowing users to see what subscriptions are available.

Full Access

allows the invited account to manage billing, partner information, subscriptions, and invoices as though it were the master account.

In the Permitted Appliances section, specify the appliances the users can manage. Choose All Current and Future Appliances to assign the users with full administration of all your appliances or uncheck that option to select individual appliances this user can manage. Note that users with this permission can also manage configuration templates.

After you are done entering invitees and assigning permissions, click Send Invitation.
Viewing invitee status
The status of each invitee appears in the Users grid. Once a user accepts the invitation, their status changes to Active. If you need to resend the invitation, check the box next to the user and click Resend Invite.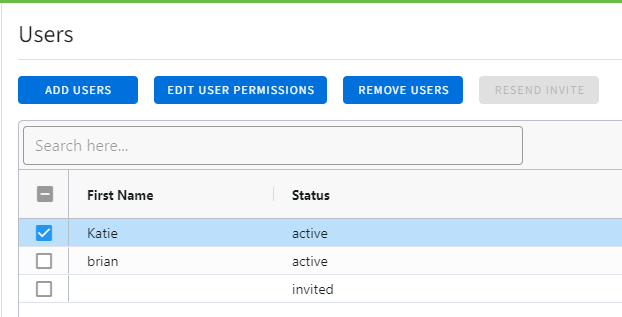 Editing user permissions
You can edit the permissions of your users either before or after they accept the invitation. To edit their permissions, check the box next the the user and click Edit User Permissions.
Removing users from your account
To remove users from your ETM Dashboard account:
Click My Organization in the menu at the left-hand side of the page.
Select Users.
Check the box for the user(s) to be removed.
Click Remove Users.
Click Yes to confirm.
Organizations
Once you have added users to your account, an Organization is automatically created. Refer to this article for more information regarding Organizations: About ETM Dashboard Organizations
Follow