Managing Status Analyzers in Micro Edge
Overview
Micro Edge conducts WAN performance & stability assessments, enabling the use of WAN Policies based on lowest latency, highest bandwidth, and so forth. This test is conducted via constant ping to an external resource, with the default using Google DNS as its target and testing on all connected WANs.
The Status Analyzers panel enables the admin to configure the tests more granularly, determining which WANs are tested and which resources/servers to target. This is useful if you do not wish to use the default settings, such as only testing a specific WAN or using different target servers. It can also be helpful to exclude split-tunnel VPNs from WAN analysis so they are not used in 'best WAN' calculations.
Adding a new Status Analyzer
Go to Settings > Network > Status Analyzers
Click Add Ping Analyzer
Give your rule a name.
Optional: uncheck the Enabled box if you do not want the analyzer active immediately.
Select at least one WAN interface to test.
Enter at least one IPv4 address to ping.
Click Add Address to add an additional IPv4 or IPv6 address.
Click Save when you have finished adding IP addresses.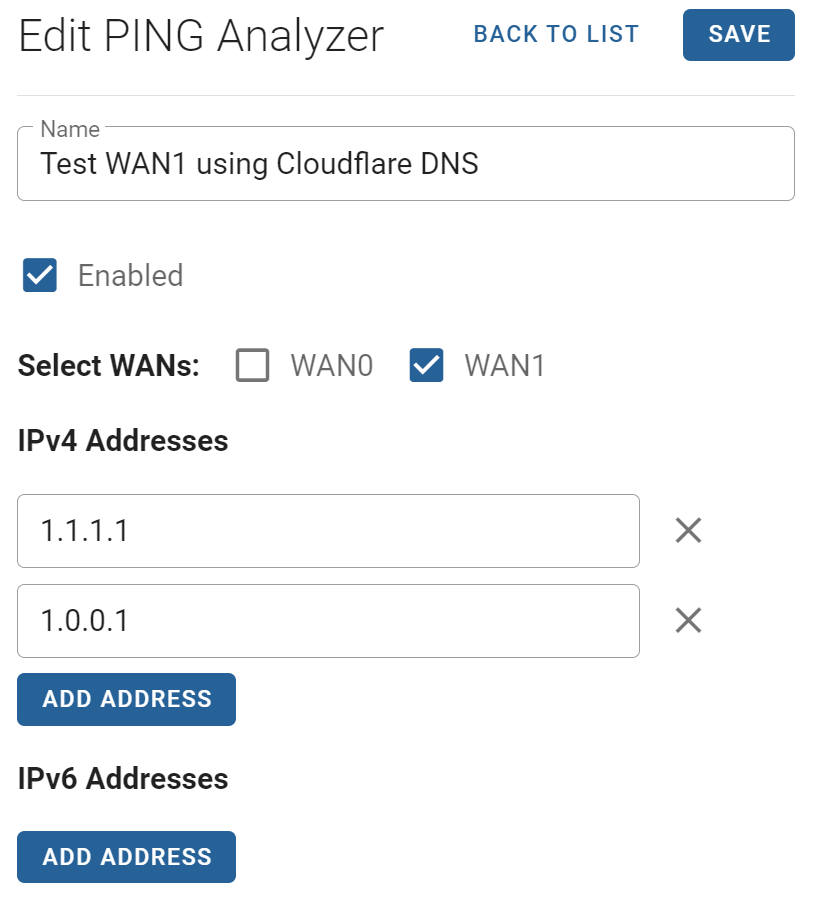 Follow