Upgrading appliances via ETM Dashboard
Overview
ETM Dashboard enables the admin to upgrade multiple appliances simultaneously, without the need to connect to each individual one.
You can also configure schedules for automatic upgrades in ETM Dashboard.
Upgrading multiple appliances
Go to the Appliances page. The Appliances grid displays the software version of each device.
Click the blue Update Software button at the top of the list.



The list of appliances is filtered to only include those which are able to upgrade.
Select the appliance(s) you wish to upgrade and click the Update button.

The update process is initiated for all selected appliances.
Configuring scheduled automatic upgrades
Go to Appliances and select the appliance on which to set the schedule policy.
Click the Update Software button.

In the menu that pops up, select the day and time when you want the appliance to be updated.
Click Set Schedule to apply the schedule.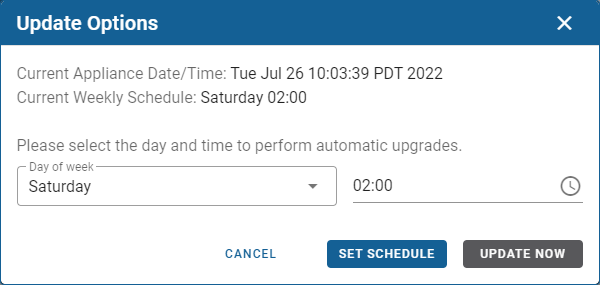 Follow