Configuration Backup & Restore in Micro Edge
Overview
As of version 4.0, Micro Edge offers the ability to export a configuration backup which can be used to store your settings safely in another location. You can also use this backup file to import into a different Micro Edge appliance to match its settings to the primary unit.
Note that this process is used when managing backups locally, via Micro Edge's own admin UI. For instructions on restoring backups from ETM Dashboard, please see this article: Managing backup configurations in ETM Dashboard
Exporting a Backup
Go to Settings > System > Settings and locate the heading Configuration Backup and Restore. Click the Export Backup button to save a .json file locally, to the computer you're using to connect to this Micro Edge.

Restoring a Backup
To restore your backup file, click the Restore Backup button to open a "choose file" dialogue. Select your backup file, then choose whether you would like to exclude Accounts and Interfaces information from the restore. (Generally speaking, it's best to leave both options set to enabled/excluded.)
Accounts includes this

Micro Edge

's current admin password. If this option is disabled, the target device's admin password will be matched to the unit the backup was taken from.
Interfaces includes all interfaces configured in Settings > Network > Interfaces. If you are restoring to the same appliance the backup file was generated on, you can disable this option to set all interfaces up as they were at the time the backup file was created.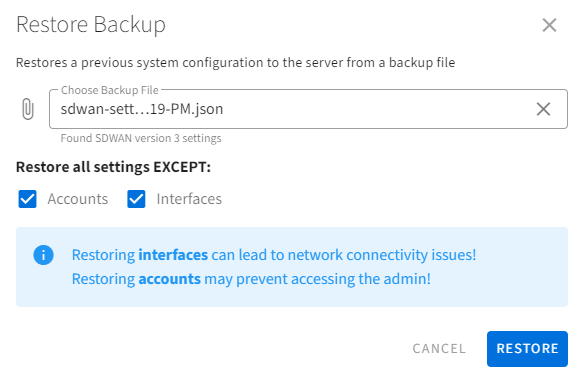 Follow