Managing System Settings in Micro Edge
Overview
This article provides some detail on the general system settings which don't have a direct effect on traffic. These configuration options are found in the Settings page, under System.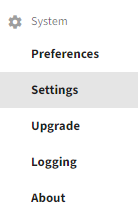 Preferences
This page contains configuration options for widgets displayed on the Dashboard, enabling the admin to remove default widgets, add additional ones, or change the order they are displayed in. For more details on Dashboard widgets, please refer to Understanding the Micro Edge Dashboard
This page also has a selector for the UI theme: Light or Dark.
Settings
These options enable the admin to specify the Micro Edge's hostname, domain name, time zone, and admin account password (used to access the appliance's command line).
Also located on this page:
Factory reset (to return the appliance to its unconfigured/"just out of the box" state)
Manual reboot
Upgrade
Please refer to this article for more details on upgrade settings: Upgrading your Micro Edge
Logging
This page displays the output of two CLI-level commands: logread (providing basic logging information about the Micro Edge's interfaces & connections) and dmesg (providing basic hardware logging information).
About
This page shows some information about the Micro Edge itself:
the appliance's UID
the software version & build
a link to the Contact Support information page
the ETM Dashboard account this Micro Edge is registered to
details about the licenses assigned to this Micro Edge, including expiry date
Follow