NG Firewall unable to update past version 16.0
Overview
Prior to version 16.1, NG Firewall installation images were available in either 32-bit or 64-bit format. There's only one practical difference between the two: a 32-bit operating system cannot have more than 4 GB of RAM. In order to allow for larger memory capacity, one must have a 64-bit OS.
All versions of NG Firewall from 16.1 onward are 64-bit; we no longer develop 32-bit versions. This is why a 32-bit installation cannot be upgraded to 16.1 or newer: no 32-bit version exists.
How to verify your install type
In the NG Firewall GUI, click Dashboard in the navigation bar at the top of the screen. Locate the widget titled Information. The attribute Architecture will tell you which version is installed.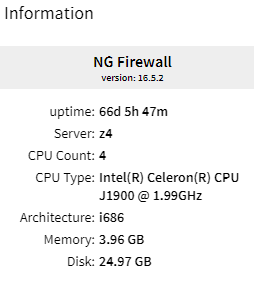 Architecture: i686 or i386
This is a 32-bit system. NG Firewall must be reinstalled to resolve the stuck version; there is no way to convert a 32-bit install to 64-bit. Once the reinstall is completed, you'll be able to upgrade normally.
Important: when downloading a new NG Firewall image, select version 16.1.1. Do not install the current version. (A backup file taken on your current version, 16.0, is only valid on a 16.0 or 16.1 installation.)
If you are installing on zSeries or wSeries hardware you bought from us, please refer to this article for installation steps: Reinstalling NG Firewall on zSeries appliances
If you are installing on your own hardware, refer to these instructions: Steps to take when reinstalling the NGFW software
Architecture: amd64
This is a 64-bit system, which means there is another issue affecting the stuck version. Please contact Support for assistance.
Follow